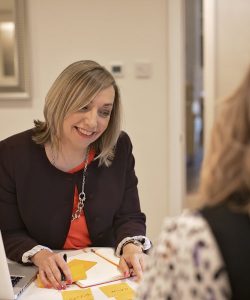 You're a successful career woman with high expectations of yourself and others around you.
Some days though logic leaves you and fear takes over. You might worry you can't do it or you've got it wrong or are not going to be successful. You may question what you're doing and why you're doing it.  On days like these you think you should have already worked things out and have the answers.
It can feel like a crisis but it's really a signal of a time of transition, a point of inner or outer change, or sometimes both.
We work together to free up the brain freeze, so that you can reconnect with yourself, draw on your natural strengths and navigate this phase from a place of feeling calm and in control.
You can choose from a range of personal and career development options, including one to one coaching programmes, short intensive sessions and small group programmes to help you through.
The focus and format of your programme is decided between us during an initial conversation.
To find out more book a call with me
The minimum investment for a one to one coaching programme is £650.
You currently have JavaScript disabled!
This site requires JavaScript to be enabled. Some functions of the site may not be usable or the site may not look correct until you enable JavaScript. You can enable JavaScript by following this tutorial. Once JavaScript is enabled, this message will be removed.